How to Find The Right Shaft Length?
If you are looking for an ePropulsion electric outboard for your boat, choosing the correct shaft length is important. If you go too long it would still work but it may lack performance. You will also risk hitting bottom or submerged objects more frequently such as rocks. If you go too short, that's the worst scenario as you're more than likely going to cavitate.
Please note that ePropulsion has a different shaft length measurement from gas-powered outboards. For electric outboards, the shaft length is measured from the top of the clamp bracket to the center of the propeller. For gas outboards, it's measured from the top of the clamp bracket to the anti-ventilation plate.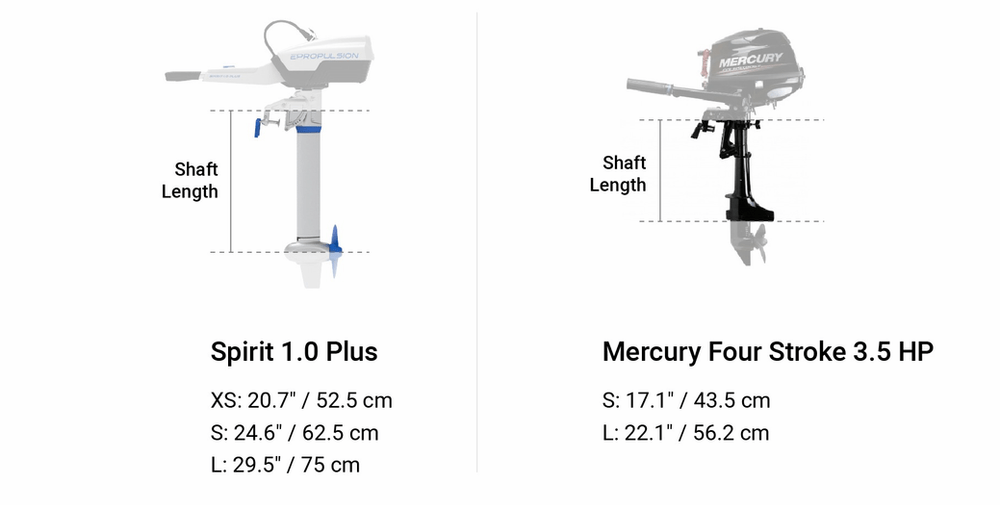 As you can see, our XS is close to S from Mercury. Our S is close to L from Mercury. Our L is longer than L from Mercury. See below.

To find the suitable shaft length, the principle is to make sure the top of the propeller is matched to the lowest point of the transom. Hard to put it into practice? Well, in order to get the right shaft length, first, measure the transom height, the length from the top of the boat transom to the bottom of the boat.

After that, you could choose the recommended shaft length based according to the transom height.
For most small dinghies and aluminum boats under 15ft or 4.5m, extra short shaft and short will work, depending on the transom height, some over 40 cm / 15.7 inches, some not.

For boats with the transom height higher than 50 cm / 19.7 inches, a long shaft version is more suitable.
For daysailers and short one-design racing sailboats, it depends on the position of the outboard mount. If you choose Spirit 1.0, we suggest you keep the outboard mount at a lower position so XS will work. That's because XS takes less space to store inside the cabin.
For daysailers, sports boats and other sailing boats it's best to measure the distance from the water line to the top of your outboard mount.
It's always worth checking with your local dealer on which shaft length they recommend for your boat and local conditions. If you still have any questions regarding the shaft length, don't hesitate to contact us. You can also download the technical drawings of ePropulsion outboards via our download centre.
---