Industry Leading Innovation
Electric Outboard
Specialists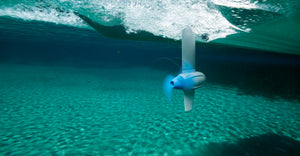 If you see any of our products in stock elswhere at a lower price, we will happily match the offer.
Leading Electric Boating
We're leading the market in electric outboard motors for boats, SUPs and kayaks. Our electric outboard motors offer a quiet, and reliable performance, at an affordable price. Check out our product range below.
Applications Of Electric Boat Motors
Electric For RIBS & Tenders
Our electric boat motors make your trips comfortable, quiet and exhaust-free. Thanks to our long-range batteries and digital display, you can leave your 'run-time' worries on the dock. Our maintenance-free designs save you time, money, and headaches making them perfect for dinghies, inflatable boats, tender boats and small runabouts.
See More
Electric Outboards For Fishing
Our electric outboard motors are silent and won't spook the fish. Electric outboards are super efficient at trolling speed and will keep you on the right spot while you fish all day without worrying about the run-time. Ideal for both freshwater and saltwater, ePropulsion electric outboard motors are perfect for jon boats, aluminium fishing boats, bass boats and fishing pontoons.
See More
Electric Motors For Sailboats
ePropulsion electric outboards enable sailboats to leave and return to the marina quickly without fuss, providing all the power they need. Day-sailers and small cruising sailboats love pod drives because they are space saving, quiet and vibration free. Our hydrogenation and solar charging also allow sailors to travel further and sail sustainably.
See More
Electric For Commercial Operators
The electric outboard motor has a simple motor structure with fewer components than combustion engines. It offers a more reliable solution with reduced maintenance. Work boats, commercial boats and rental boats can have longer service hours and more up-time. The quiet and exhaust-free experience also makes passengers more comfortable onboard.
See More
Official Electric Outboard Supplier
IN PROUD PARTNERSHIP WITH SAILGP
We've partnered with SailGP to provide sustainable electric outboards and solar charging for the global sail racing league.
MORE INFO
SEE PRODUCT
Speak With Our Specialists Today
We're here to help answer any questions and to help you find the perfect outboard for your needs.
Call 1300 590 951 or fill out the form below and we'll be in touch.